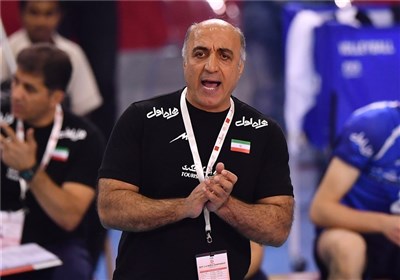 His uncanny eye for talent is commendable as he finds value on someone's abilities where others may not see any. His great capability to unlock the potential of volleyball prospects and his strong commitment to preparing the players thrive to the next level is why Iran became a powerhouse in men's volleyball.
I have the honor to work with Iran's age-group teams (U19, U21 and U23) since 1990. My main interest is to discover talents, like a gardener that cultivates the soil to help the plants grow better.
Most of the players who are going to Tokyo 2020 Olympic Games started volleyball with me. The most popular, of course, is Saeid Marouf, and the others I have also guided are Seyed Mohammad Mousavi, Farhad Ghaemi, Amir Ghafour, Milad Ebadipour, Mojtaba Mirzajanpour, Saman Fayazi, Ali Asghar Mojarad, Javad Karimi, Pourya Yali, Amir Hossein Esfandiar, Saber Kazemi, Morteza Sharifi, Amir Hossein Toukhteh, Mohammad Reza Hazratpour, Mohammad Reza Moazzena and Bardia Sa'dat.
His knack for identifying talents stems from intuition but his method of teaching is logical.
I talk to the players and set goals with them the first time I meet them. After that I monitor their progress. I make it clear to the players that the goals we set are tough but achievable and that our common goal should be to get them to improve not just in sports but also in life.
The players need to trust me and respect my experience as their mentor. They have to know that star players have been with us once, and if they listen to me, they will also reach their place in the sport someday.
The most important lesson they learn from me is to be honest in their sports careers and their personal lives. I am their teacher, not just their coach, so the things they learn from me will reflect on them when they become respected national team players and members of society. They should be role models instead of being just stars.
Apart from identifying talent, he provides the best technical expertise and constant guidance in training that enable athletes with broadly different skills and abilities to excel in volleyball. Movement without the ball is the first thing that he establishes before his players could touch a volleyball.
Skills in volleyball start with the standing position, contrary to some teachings that volleyball has to be carried out using the hands. I believe that players must work on their footwork first to be able to execute volleyball techniques properly.
He takes coaching in stride and feels the biggest satisfaction when one of his players makes it to the big leagues.
There is nothing hard for me in this journey as youth national team coach. I have enough knowledge and experience to make a star out of an amateur player. All these players need to do is to follow me and understand that nothing is impossible if they are diligent.
The players who have played in the Olympic Games are definitely capable and are very valuable to the country. Marouf, Mousavi, Ghaemi, Ghafour and Ebadipour are more famous than the others but there are many young players who have great potential to be a star.
When I see my former players who have succeeded in their careers, I am always reminded of their youth days when they also dreamt of making it to the team and now they are one of the best players in Asia and the world. My colleagues and I are proud of the efforts we have put in to develop these great Iranian players.
It's satisfying to see how they have evolved in the senior national team. Whenever I watch them play well in continental and the Olympic Games, I feel like I have succeeded in the goals I have set for them and that I am on the right track to guide Iran's young players.
He did turn his love of volleyball into a real-life opportunity of honing Iran's best talents by learning from the most respected names in coaching. His coaching career has spanned three decades and his legacy continues with more volleyball discoveries for his country.
Since I was a school sports teacher and I played volleyball at club and national levels in the past, my interest was really to transfer my knowledge to the younger generation.
I took part in international courses and found an opportunity to work with renowned coaches like Ivans Bugajenkovs of the Soviet Union and Utsa Cetkovic of Yugoslavia, and the legendary coach Julio Velasco who made a revolution in Iranian volleyball, all of whom helped change my views on world volleyball.
With the help of my Iranian staff, I was able to achieve Asian and world titles. My 30-year effort has produced nine Asian and five world medals for Iran.
Vakili treats his players – new and old – as his own children and gives them the best advice on and off the court, asianvolleyball. reported.
My advice to young players is to understand that there are no shortcuts to learning. Anyone who aspires to be a successful person, always give their best effort to become a better individual. They should listen to their coaches and give them the utmost respect just like their predecessors who have become big stars.
As to my former players, they should always look back where they came from and to always take care of their life and their health and respect the people who played a part in their growth as athletes.