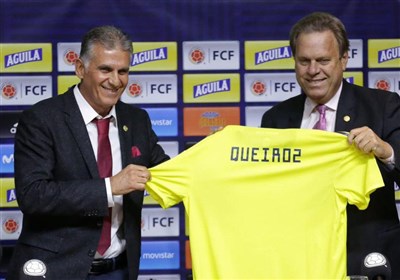 The 65-year-old coach was appointed the new head coach of the South American football team on Thursday.
The former Iran coach, who has penned a four-year contract with Colombia, will head the team in Group B of the 2019 Copa America, where the Tricolor is pooled with Argentina, Paraguay and Qatar.
These players are the core, the soul of the national team. They are an important part of my analysis and my selections," Queiroz said.
My mission is to improve in all fields. We're going to be demanding," the Portuguese added.
My goal is to preserve the prestige, reputation and placement of the Colombian national team in the world and that will be my first priority," the former Manchester United assistant said at the federation's headquarters in Bogota.
I want to thank all the fans in Colombia as well as the federation for putting their faith in me. I hope to do the job as it is supposed to be done," he concluded.