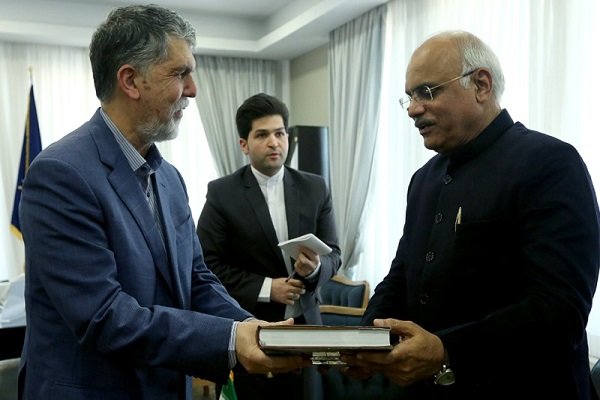 He made the above remark in his meeting with the chairman of Indian Cultural Relations Council and placed special emphasis on the significance and influence of language and literature in expansion of relations between countries.
Salehi pointed to the history of amicable relationship between Iran and India which dates back to many years ago and added, "the two countries of Iran and India has had age-old and historical relationship with each other.
Turning to the opportunities of joint cooperation between the two countries, he added, "Iran and India enjoy high capacities and potentials for broadening cultural ties, so that language plays an important role in this field.
Elsewhere in his remarks, Iranian culture minister reiterated that Persian language and literature is one of the most important human factors that provides significant opportunities for joint studies and communications between Islamic Republic of Iran and India.
Iran and India also can collaborate with each other in the field of linguistics and creative literary productions, he said, adding, "in this regard, universities and academic centers can play an important role in boosting bilateral cultural and artistic relations.
Turning to signing and sealing cultural exchange programs between the two countries, he added, "these cultural exchanges have provided a good perspective in the field of artistic and cultural cooperation, so that cinema is considered as one of these fields.