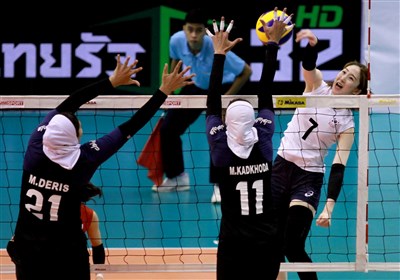 Team Melli lost to South Korea 3-1 (12-25, 26-24, 25-16, 25-19) on Saturday.
South Korean Ha Hyejin chipped in with 17 points from 16 attacks and one ace, while Hwang Minkyoung added 9 points including 8 attacks.
Mahsa Saberi led Iran with 18 points from 16 attacks, one block and one ace.
Iran, who has defeated Australia twice in the competition, will face the team once again for the 7th place.
The 2018 AVC Cup for Women is the sixth edition of the Asian Women's Volleyball Cup, a biennial international volleyball tournament organized by the Asian Volleyball Confederation (AVC) with Thailand Volleyball Association (TVA).
The tournament is being held in Nakhon Ratchasima, Thailand, from 16 to 23 September 2018.