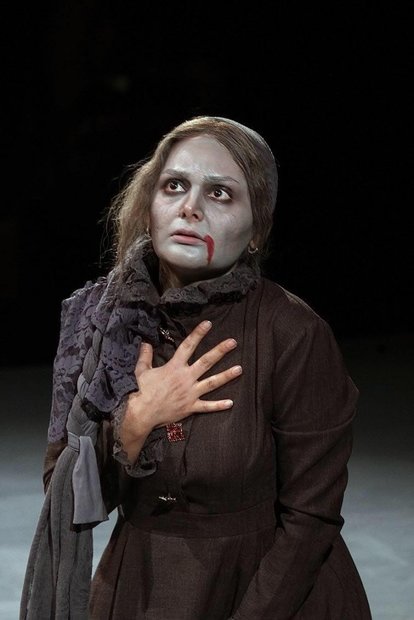 TEHRAN – An Iranian troupe plans to perform a concert theater based on Victor Hugo's romantic novel "The Hunchback of Notre Dame" in Tehran.
The concert theater will begin on August 19 at Baran Theater, director/playwright Elham Shakib told the Persian service of FNA on Wednesday.
There is no dialogue in performance and the story will be narrated through song and music," she added.
She noted that almost everybody has read the story of "The Hunchback of Notre Dame" or has watched it in several animated movies produced from the story.
Her cast, which is composed of actor-singers, has been rehearsing over the past 45 days. Ashkan Sadeqi stars as the hunchback of Notre Dame and Hesam Mokhtari, Mahmud Qana'atpisheh and Raisa Avanesian are other main members of the cast.
The music for the performance is based on French and Iranian compositions, Shakib said.
File photo: Elham Shakib acts in a scene from Fyodor Dostoyevsky "Crime and Punishment" by director Iman Afsharian at Tehran's Masudieh Theater on October 14, 2015. gar.