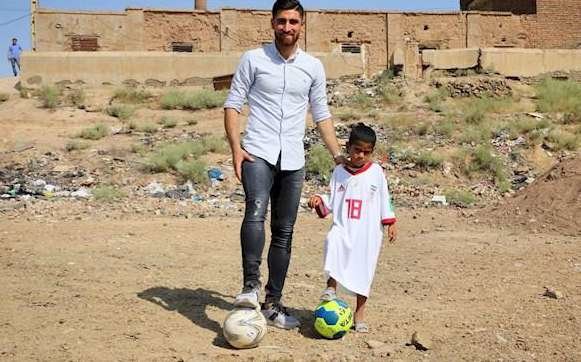 TEHRAN - There is no Make-A-Wish Foundation here, but his dream came true, when he met with his football star.
Matin's photos emerged, dressed in a white shirt with AZ Alkmaar and Iran star Alireza Jahanbakhsh's name etched in pen on the back. He gained online fame when one of the shots went viral.
The young boy met his football hero, Alireza Jahanbakhsh, in Khavarshahr, on the outskirts of Tehran.
Matin, a child of 5 who works at a brick kiln had said he wanted to meet Jahanbakhsh badly, and the Iran international winger used his social media to find him.
Jahanbakhsh went to Khavarshahr to meet Matin and his friends Younes, Pouria, Danial, Jaber, Benjamin, and Ali.
The Eredivisie top scorer presented them all with balls and shirts and also signed an autograph for Matin which read: "To dear Matin. I wish you the best of luck in your future.
It is safe to say that the gift is one of the most precious presents Matin has ever received.
Jahanbakhsh encouraged the children to play football and then they played together a bit.
Jahanbakhsh also asked the children about their favorite footballer, "Messi or Ronaldo? Of course, the answer was Messi who enjoys more popularity in Iran.
The Iranian football star said his farewell to the children, but he fulfilled his promise by finding Matin and giving him his shirt. All power to Jahanbakhsh.