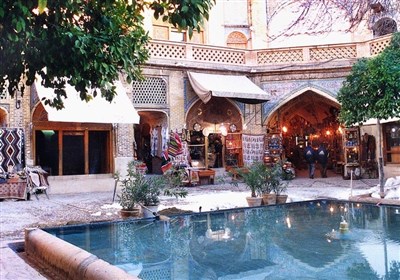 It is located at the end of Vakil Bazaar in the south east corner. Many mistake it for Vakil Bazaar, because they are located next to each other.
It was founded more than 250 years ago under the order of government general of Fars province in Shiraz named Mirza Abolhassan MoshirolMolk.
It was made as bazaar in the first days of its establishment. In some days this place was used as a museum and also as a traditional restaurant and Tea-Serving center. After the revolution in Iran it was closed for some years. Then it began to become a place for making handcrafts and artful goods. Till then up to now it has continued.
Saraye Moshir has the scheme and plan of an octagon. It has a big wooden door at the entrance. The Architecture of this place is almost the same as Vakil Bazaar. There is a beautiful and large pool in the middle of the courtyard that dazzle the eyes of any visitor.
This courtyard with its beautiful orthodox trees create a delightful space within the Bazaar. Saraye Moshir is one of the places in Shiraz that handicrafts such as mosaic and khatam and gabbeh could be found.